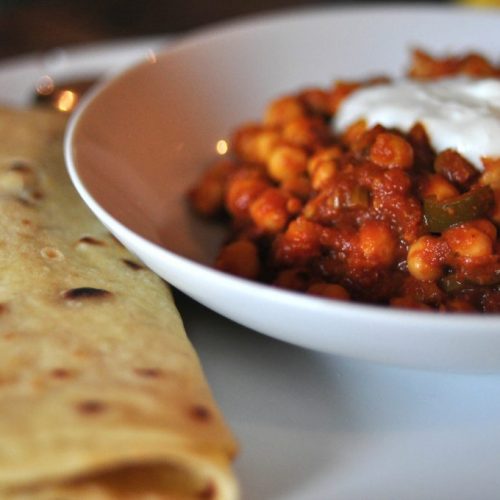 Chana Masala
From Good and Cheap by Leanne Brown, this Chana Masala is easy to make and filled with flavor.
Good and Cheap is a gorgeous cookbook for people with limited income, particularly those on a $4/day food budget. The PDF is free (ahora en Español!) and has been downloaded more than 1,000,000 times.
Ingredients
1/2

teaspoon

ghee or butter

1

teaspoon

cumin seeds

1/2

cup

onion, diced

1

teaspoon

garlic, finely chopped

1

teaspoon

ginger root, peeled and grated

1/2

jalepeno pepper, seeded and finely diced

3

teaspoons

coriander powder

1

teaspoon

turmeric powder

1/4

teaspoon

cayenne powder

1/4

teaspoon

garam masala powder

1

teaspoon

paprika

1/2

teaspoon

salt

1

cup

tomatoes, canned (pureed, diced or crushed)

2 1/2

cups

chickpeas (garbanzo beans), cooked and drained

Note: If you don't have cooked chickpeas around, you can use canned, add about $1 more to the meal cost.

1/2

cup

water
Garnish (optional)
1/2

bunch

fresh cilantro, chopped

plain yogurt (1-2 tablespoons per serving)
Instructions
Measure out all the spices except the cumin seeds and put them in a small bowl.

Let the ghee (clarified butter) melt in a small saucepan over medium-low heat. (Ghee is the traditional Indian choice, but you can substitute butter if you can't find ghee.)

Once the ghee begins to sizzle, add the cumin seeds and stir for about 5 seconds. Add the onion and saute for 2 minutes. Add the garlic and cook for 1 minute. Add the ginger and jalapeno and cook for 1 more minute. Add the spices and then the pureed tomatoes. Mix, then put a lid on the pan and let everything cook down for 5 to 10 minutes.

Once the tomato has reduced and the ghee starts to separate from the sauce, add the chickpeas and water.

Mix, then bring it to a boil before reducing to a simmer. Cook for 10 minutes, then squish a few chickpeas with a spoon to thicken the sauce.

Garnish with yogurt and cilantro. For a full meal, serve over rice and/or with roti (Indian-style flatbread).
Notes
Prep tip - Buying chickpeas dried in bulk and cooking them for use in recipes like this is a great way to save money. If you are new to using spices, or don't have many in your pantry, you can substitute the coriander, turmeric, and cayenne with any store brand of curry powder, which is made from a mix of those spices.
There are many varieties of Garam Masala in the spice aisle too, though it is simply a spice mix of coriander, cumin, cardamom, cinnamon, cloves and black pepper.
You will find over time it is worth buying spices individually so that you can tailor your recipes by mixing up the spices to create your own fragrant, favorite flavors.
Change it up - add leftover potatoes, or fresh sauteed zucchini, summer squash, or spinach. Short on time? Make a double batch so you have leftovers for a quick healthy meal (this recipe also freezes well).
Nutrition Tip - Chickpeas are high in fiber. As a complex carb, chickpeas help prevent surges in blood sugar levels. Onions are a source of Vitamin C, which helps boost your immunity.